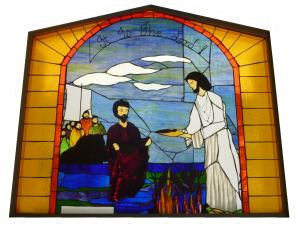 It is the Lord!
This window is based on John 21:5-7a, "Jesus said to them, 'Children, do you have any fish?' They answered him, 'No.' He said to them, 'Cast the net on the right side of the boat, and you will find some.' So they cast it, and now they were not able to haul it in, because of the quantity of fish. That disciple whom Jesus loved therefore said to Peter, 'It is the Lord!'"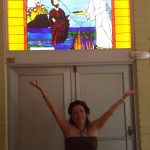 This Window's Artist: Aloha McNeil
________________________________________________________________________________________________________________________________
The Angel Gabriel Telling Mary about the Birth of Jesus
This window was dedicated by Ray and Ruth Schnake to the Glory of the Triune God. It is based on Luke 1:30-31, "And the angel said to her, 'Do not be afraid, Mary, for you have found favor with God. And behold, you will conceive in your womb and bear a son, and you shall call his name Jesus.'"

The Birth of Christ
This window was dedicated by Bruce and Marcy Palmenberg, in memory of their parents, Edward and Linda Palmenberg, and Clark Grove and Winifred Grove Sauerteig. It is based on Luke 2:10-11, "And the angel said to them, 'Fear not, for behold, I bring you good news of great joy that will be for all the people. For unto you is born this day in the city of David a Savior, who is Christ the Lord.'"

Baptism of Jesus
This window was dedicated by David and Leanne Ruesch in memory of their parents, Don and Arlene Peters, and Jake and Vicki Ruesch. It is based on Matthew 3:13, "Then Jesus came from Galilee to the Jordan to John, to be baptized by him."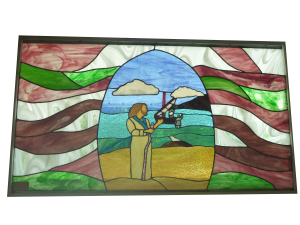 Jesus Calling His Disciples
This window was dedicated by Brigitte and Dick Blaudow to the Glory of God. It is based on Matthew 4:18-20, "While walking by the Sea of Galilee, he saw two brothers, Simon (who is called Peter) and Andrew his brother, casting a net into the sea, for they were fishermen. And he said to them, 'Follow me, and I will make you fishers of men.' Immediately they left their nets and followed him."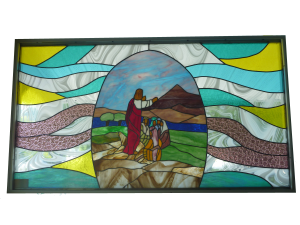 Sermon on the Mount
This window was dedicated by Al and Marilyn Chruszch in memory of their parents, Nick and Mary Chruszch, and Herbert and Myrtle Gulseth. It is based on Matthew 5:1-2, "Seeing the crowds, he went up on the mountain, and when he sat down, his disciples came to him. And he opened his mouth and taught them, saying…"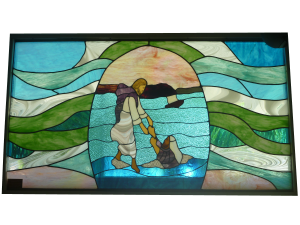 Peter being Pulled from the Water by Jesus
This window was dedicated by Phil and Janet Snoberger to the memory of Janet's eldest son, Scott Elliot Gillis. It is based on Matthew 14:28-30, "And Peter answered him, 'Lord, if it is you, command me to come to you on the water.' He said, 'Come.' So Peter got out of the boat and walked on the water and came to Jesus. But when he saw the wind, he was afraid, and beginning to sink he cried out, 'Lord, save me.'"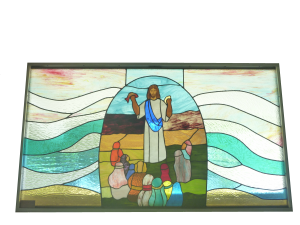 Fishes and the Loaves
This window was dedicated by Chuck Deutermann to the memory of his beloved wife, Faith Deutermann. It is based on Mark 6:41-44, "And taking the five loaves and the two fish he looked up to heaven and said a blessing and broke the loaves and gave them to the disciples to set before the people. And he divided the two fish among them all. And they all ate and were satisfied. And they took up twelve baskets full of broken pieces and of the fish. And those who ate the loaves were five thousand men."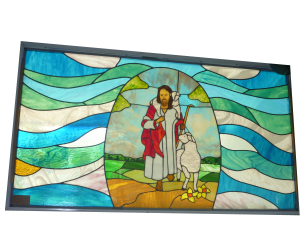 Jesus and the Lambs
This window was dedicated by Richard and Anna Carlstrand in memory of their two daughters, Elisa Lynn Carlstrand and Carrie Marlene Carlstrand. It is based on Luke 15:4-7, "What man of you, having a hundred sheep, if he has lost one of them, does not leave the ninety-nine in the open country, and go after the one that is lost, until he finds it? And when he has found it, he lays it on his shoulders, rejoicing. And when he comes home, he calls together his friends and his neighbors, saying to them, 'Rejoice with me, for I have found my sheep that was lost.' Just so, I tell you, there will be more joy in heaven over one sinner who repents than over ninety-nine righteous persons who need no repentance."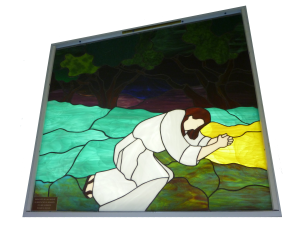 Gethsemane
This window was dedicated by Jan Wolfe in memory of her husband, Roger D. Wolfe. It is based on Matthew 26:36-39, "Then Jesus went with them to a place called Gethsemane, and he said to his disciples, 'Sit here, while I go over there and pray.' And taking with him Peter and the two sons of Zebedee, he began to be sorrowful and troubled. Then he said to them, 'My soul is very sorrowful, even to death; remain here, and watch with me.' And going a little farther he fell on his face and prayed, saying, 'My Father, if it be possible, let this cup pass from me; nevertheless, not as I will, but as you will.'"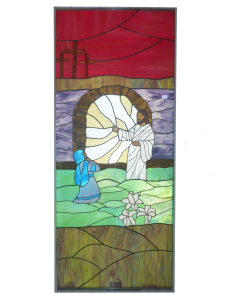 Crucifixion and Resurrection of Jesus
This window was dedicated by Gene and Judy Schlichtman to the Glory of God. It is based on Matthew 28:5-8, "But the angel said to the women, 'Do not be afraid, for I know that you seek Jesus who was crucified. He is not here, for he has risen, as he said. Come, see the place where he lay. Then go quickly and tell his disciples that he has risen from the dead, and behold, he is going before you to Galilee; there you will see him. See, I have told you.' So they departed quickly from the tomb with fear and great joy, and ran to tell his disciples."
Letter from the Artist:
I saw the Stained Glass Window page.  Very nice job.  I'm not sure if you know, but, I'm the one who made and delivered 8 of the windows. Sue and Greg Reiss talked me into doing them.   It took me one year to complete them.  We live in Tavares, Florida.  The drive down with each window was 7 hours.  And, I prayed each trip that nothing would break.  Sue and Greg stopped here and took the last two tall windows, as they had their motor home and were able to get those in.  Each of the windows along the side of the church took at least 3 1/2 weeks to complete.  My husband helped me to make sure each one was perfectly aligned, then I got him to help me.  Ha. he didn't think he would learn how hard it is to cut and grind each piece and have plenty of patience when you break one that you are ready to install into the picture. My favorite one that I did, is Mary and Gabriel.  It was mid winter, and cold in our garage, and I had to use a hair dryer to heat each piece of the purple wings.  Also, I threw out my back doing this window and spent a week in bed. When I was working on Jesus and Mary, there was a last minute design change. Sue said they wanted the 3 crosses added. So, I did, and was sweating bullets that I had enough glass and prayed they would look good. We have a vacation rental on Key Colony and I was just down last week and brought some people by to see the windows. With each window, I prayed the family that dedicated them would like them. I have to say that since I completed these, that I have gotten several commissions for windows. Thanks to those who like my work.
Sincerely,
Corado Vittoria (Vince)
________________________________________________________________________________________________________________________________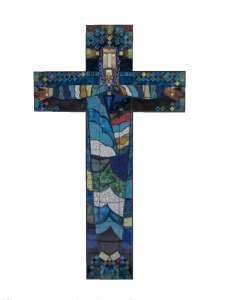 If anyone has information about who made the Mosaic Cross or when it was installed, please contact us and let us know!